"On a Mish" #298 My Own Great Walk – Part Three. Peak 1086m (Beyond Key Summit). Routeburn Track. Fiordland National Park. 8.9.2021. On many occasions I have had a remote valley somewhere in the South Island all to myself. The fact that this is still possible in New Zealand these days is a testament to how isolated this small group of islands in the South Pacific is. Over time our hidden wilderness treasures have been looked upon, photographed and then talked about so much that until 2020 our popular hikes and locations were always busy…
In a post-covid world tourism has hit an all time low in some places, and an amazing upside to all the doom and gloom, was the opportunity to hike some of the best parts of the world famous Routeburn Track completely alone. After pushing aside the snow on the track up to Key Summit I continued along higher up the ridge towards my intended target of Peak 1086m. Having hiked the trail beyond Key Summit (The Whiskey Trail) many times, I knew where to go. The only problem was the fact that everything was covered in snow, with the branches in the forest hanging to the ground under the weight of the frozen masses. I got to a point where the track crosses over some tarns (small alpine lakes), and I knew there was a boardwalk across. Luckily after my hip injury (always look at the positives!) I always walk with a hiking pole, so I could use it to poke and prod around to find what was boardwalk and what was a boggy disaster. I crossed over without falling in and then had to battle the low hanging branches of the forest section of the track. Once again my hiking pole came in handy as I used it to bash the branches, which would then ping backup to their normal height way above the track. This was very time consuming, but I had nowhere else to be and with each rest I could peer through the trees at the stunning location I had got myself to. I eventually bashed my last branch and was out in the open again. From here the way was obvious and yet still tricky in places, as I would encounter deep pockets of snow carefully hidden amongst the solid ground. I carefully continued to climb the ridge and finally made it to Peak 1086m just as it started to snow again. Looking south I could see only dark menacing snow clouds, but looking to the north all I could see was the incredible beauty of the snow-covered Darran Mountains. I took in the mountain splendor before retracing my steps back towards Key Summit.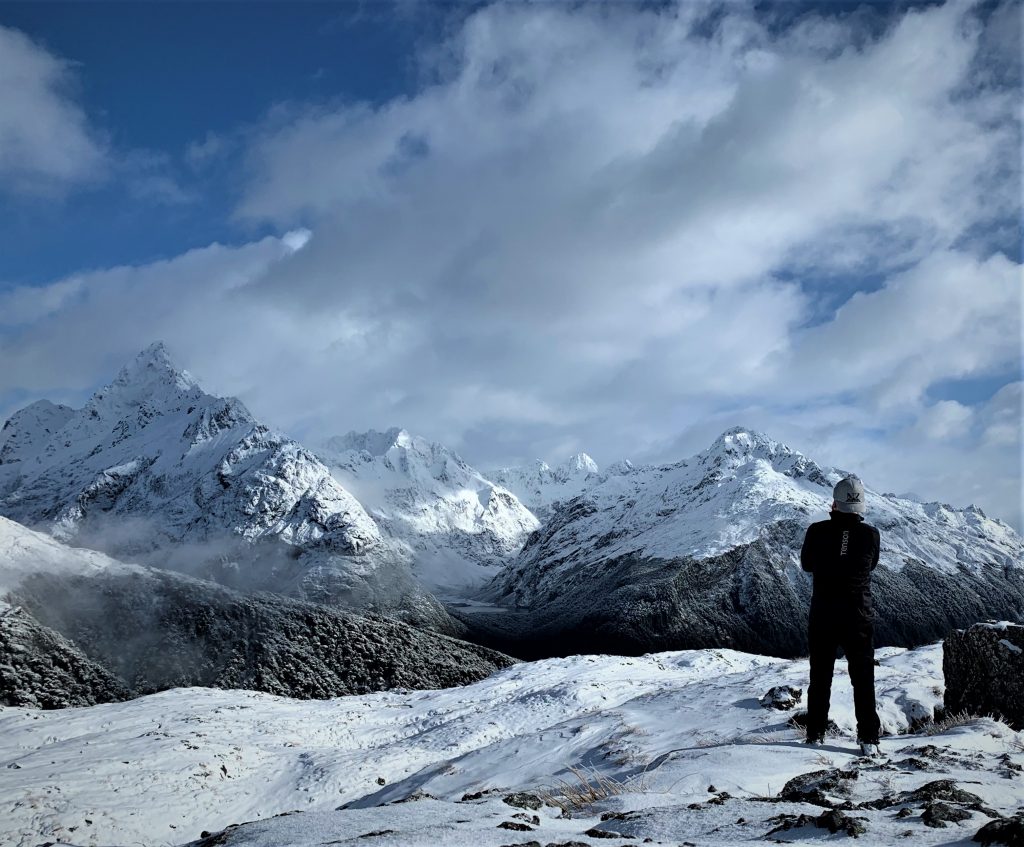 At one point I heard a rumble which I at first dismissed as simply being an aeroplane flying high above me. Then I clicked that our borders were closed and there weren't any aircraft in our skies. It took me a few seconds to work out what was going on, but I finally realized what it was when I looked to the mountains of the Darrans and saw a huge avalanche pouring down the side of Mt Lyttle(1899m) into the Lake Marian Basin. This happened a few more times on my journey back, and it let me know that the mountains can be very dangerous at this time of the year. The return trip was much easier as I could just follow my stomped and bashed out track in the snow and through the forest. After getting back on the Key Summit Track I could see that there was still only one set of footprints in the snow (mine) and once again I enjoyed having one of New Zealand's premier Great Walks to myself. Downhill travel is definitely harder on my battered body, so I took it slow as I backtracked down to the Divide car park. I arrived to see my car was still the only vehicle in the entire car park, and it wasn't until I was just about to leave that I saw other human beings. I had a quick chat and informed them that they were in for a treat, before beginning the trip back home to Te Anau. After sitting through lockdown the mish was exactly what I needed, and I will never forget the day that I had an entire Great Walk to myself!