"On a Mish" #247 Serpentine Creek Saddle – Part Three. Cimera Range. 5.2.2021. When "On a Mish" you sometimes have to keep telling yourself that you are doing this for fun. Secondary fun is something I have got used to since my hip accident. Partaking in the activity might cause pain at the time, but that disappears as soon as the satisfaction begins to flow. Feeling good about yourself and the effort you put in after tackling a hiking challenge is a much better feeling than sitting at home and feeling sorry for yourself!
A series of rock bluffs kept me up on the face, and after about 45 minutes of tough going I saw an escape route to the valley floor. Downhill is always easier, although the loose gully was steeper than it looked. After getting down to the valley floor I needed to stop and give my old broken body a break. The going was a lot easier after getting off the face, and after making my way through the fields of tussock, I finally got to the top of the valley. I was briefly visited by the sun as I looked for a spot to pitch my tent, and as I made my way up the southside of Mt Maling(1825m) I realised that I could see the dark water of Lake Tennyson. Setting up camp was a mix of camp work, and soaking in the stunning views. Directly across from my camp was the giant lump of Mt McCabe(1606m), and hiding in the clouds was a still unseen Mt Princess(2126m). After camp was set up I needed a break and a couple of painkillers, but the reward for the effort made up for any pain. With the cloud cover I couldn't see the sun setting until its last moments, and through a small gap in the mountains I watched the sky glow a bright orange. The night was one of the stillest nights in a tent I have had, which is remarkable considering I was camping above 1400m. It was also a welcome change from the frantic flapping of fabric I had got used to on my last couple of missions.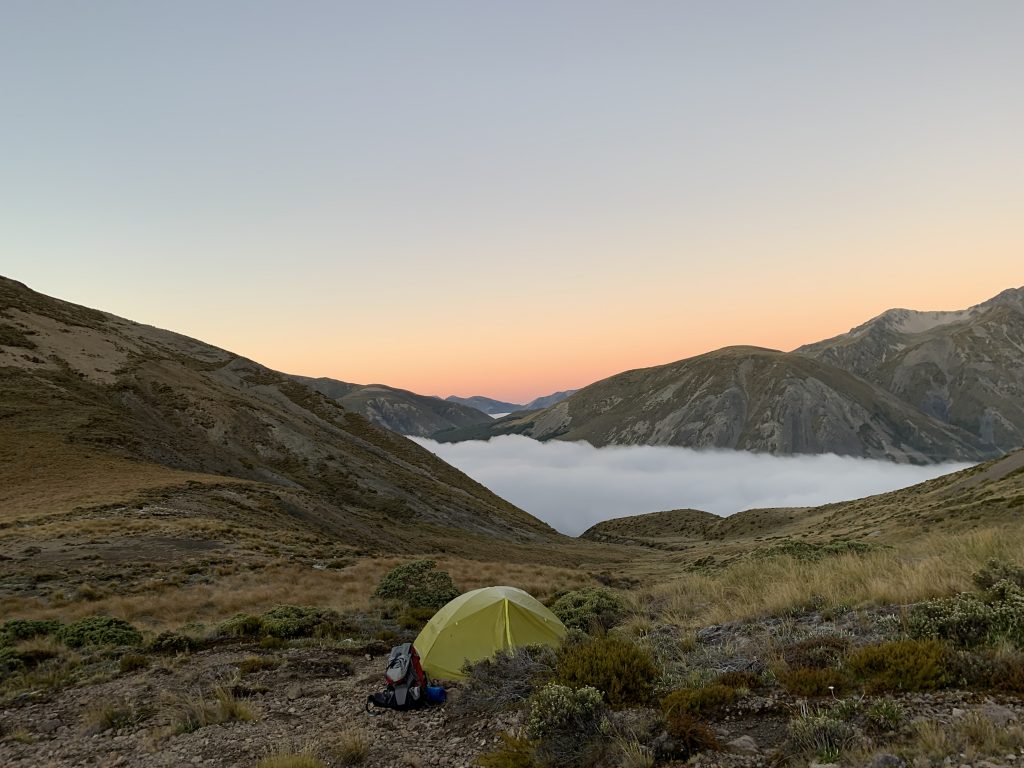 Very early-ish the next morning I was up in time to see an incredible inversion layer covering Lake Tennyson and the valleys below me. I packed up my camp as the sun began to light the east face of Mt Princess(2126m), and then it was time to head home. Getting going was a mission inside a mission, as the legs were quite happy just to stay on the saddle. My escape route was to avoid anything slightly resembling a scree slope, and follow the creek back to my car. This proved to be far easier, and in no time I was back down to the same level as the road. As I got to the valley's entrance I looked up in time to see a motorbike speed by with a dust cloud behind nearly as high as the mountains. Soon the first bike was joined by two, five, nine… There were about thirty bikes zooming along the road towards Island Saddle. This was an exciting return to a world with other people in it, and as I drove back to Christchurch the other traffic on the busy road to Hanmer reinforced my return to reality. I'll admit that I was rather sore for a couple of days after the mish, but I know that I'm gonna remember my first proper mish since my accident for a lot longer than a few days!