"On a Mish" #313 Cleddau Clamber – Part Four. Upper Cleddau Valley. Fiordland National Park. 16.12.2021. For some reason I always feel the most refreshed when I wake up in my tent. I actually get less sleep while tossing and turning, trying to find that one comfy spot amongst the rocks acting as your mattress that night. But for some reason I always wake up like I've been sleeping for weeks! There is something so relaxing about the mountain atmosphere that sleep is only a way to pass the time while it's dark and the body will recharge itself with the energy source that is the wilderness…
Early-ish the next day I was up as the light began to reveal the awe inspiring place I had spent the night. As if reward for pushing through the pain to get myself and all my camping gear up to my epic ledge above the Upper Cleddau Valley, I got a sunrise to match the incredible sunset from the day before. Once again the normally cold greys and blacks of the granite were replaced with light orange, red and pink. A light flutter of wind was the beginning of the end of the clear weather in the place that is famous for its constant rain and I wasn't going to take the red sky in the morning warning lightly. Before I packed up my camp I went for a reccy above my campsite on the exposed rock slabs. The rock in the Darrans is like a surface of sandpaper, offering outstanding grip for climbing. As I climbed higher I realised my confidence on steep, exposed ground like this wasn't what it used to be and after a while I scared myself into turning back. I'm sure my confidence will return over time, but for now I was satisfied with what I had achieved in less than 24 hours. I scrambled back down to my tent and my aching hip told me I had made the right decision.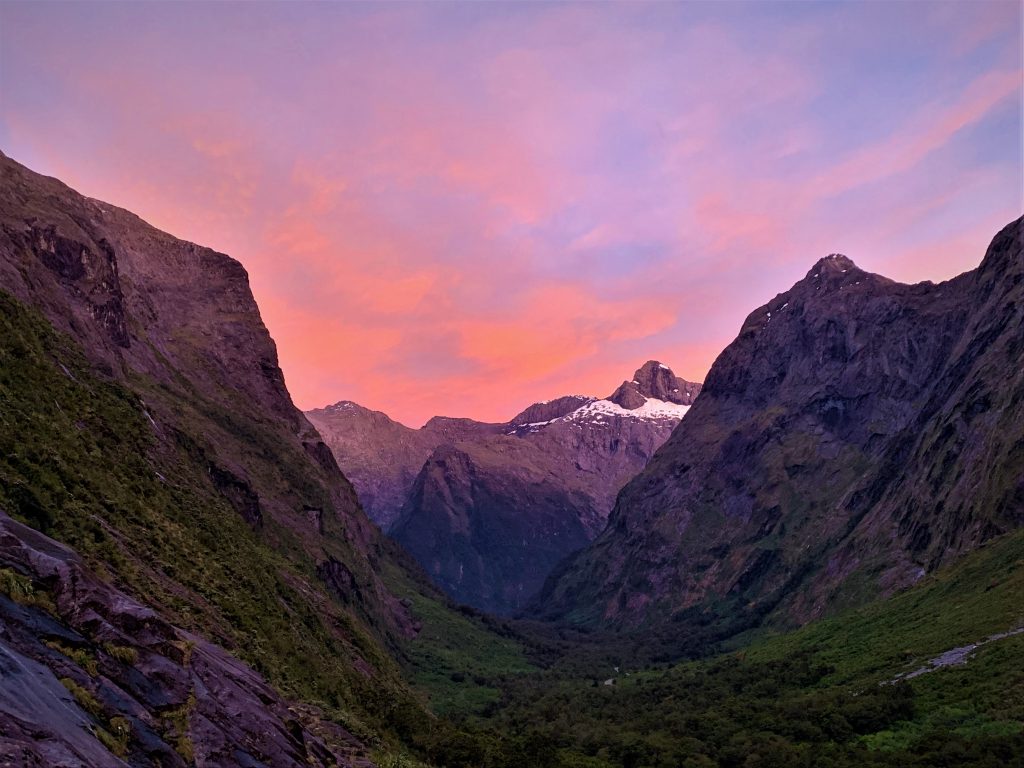 While packing down my tent I began to see the first vehicles making their way down the valley towards Piopiotahi / Milford Sound and this was enough to snap me back into reality. As I began my clamber back down to the valley floor I could see that the weather was definitely changing and it was time to leave. Slow and steady was the only way I could get myself down, and eventually I got back to the Milford Road and the short walk up to my car. On the drive home I stopped at the tunnel portal and looked back at the sheer cliffs below Gulliver Peak(1776m), and the tiny ledge I had spent the night on. Truly inspiring country to spend time in and even though I was a little bit sore, the satisfaction overshadowed any pain I was feeling!