"A Mish a Day" #7 Mt Burns(1645m) – Part Two. Fiordland National Park. 21.3.2017. Each step upwards is one less to take to get to the summit. With my fellow Fiordland fanatic I eyed up the steep ground of Mt Burns' west ridge with the mission's steep reality starting to sink in. In only 500m or so we had gone from camp chairs, breakfast and a coffee, to a scramble up steep tussock-covered country. After a couple of minutes of quad's pumping skywards the layers used to warn off the chill of the morning were being stripped and stashed into our packs. The lingering cloud below us made for a stunning visual spectacle, and more importantly, motivation to climb higher and see more. After ascending our first damp tussock-covered challenge we arrived at slightly less angled ground and could now take in the excellent predicament we had got ourselves into…
We arrived at the junction of the west and south ridges and continued on towards the craggy rock of the upper reaches of the mountain. The exposure of the terrain between the mountains' low and high peak is awesome. A real test of mind over matter, as the climbing isn't very difficult but the drop of near 1000m on the peaks north face keeps you on your toes. Slowly we pushed on, overcoming each obstacle as we got to it. In one spot the only way I could find around yet another rock tower involved traversing a tiny ledge, leaning backwards (towards the huge drop on the north face) to avoid rock at face level.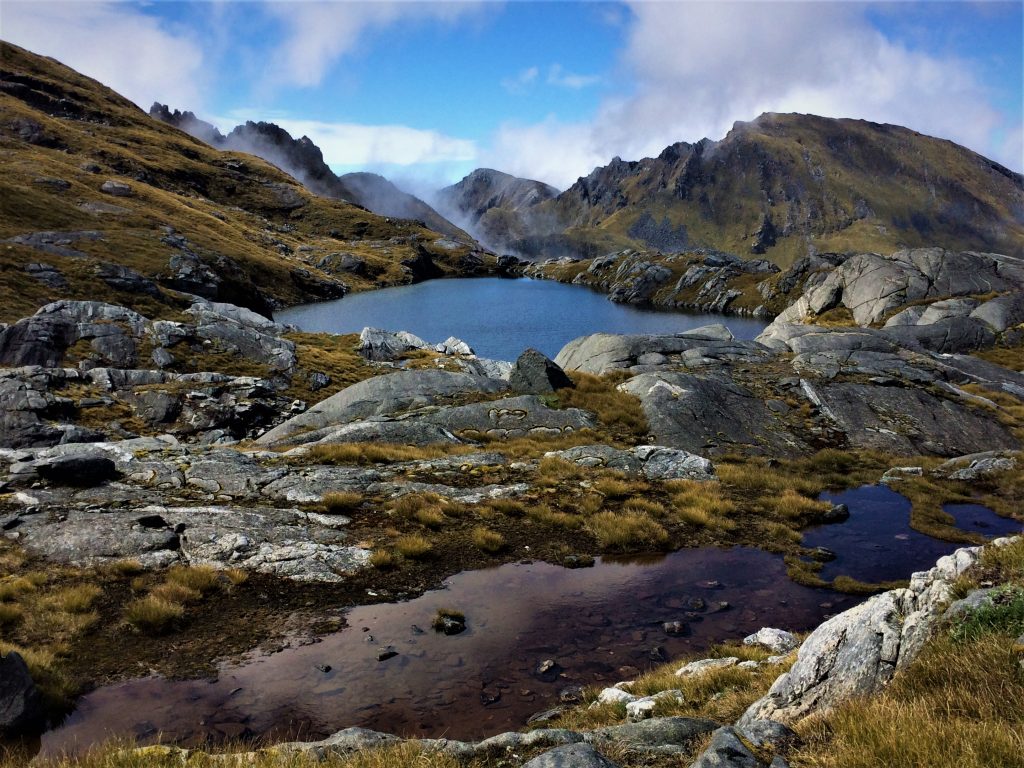 The surges of adrenaline were a better high than any drug or drink, and with a mixture of excitement and nervousness we crept our way towards the summit. Success was standing next to the pylon and rock cairn on the summit, gazing down at the mixture of clouds and peaks. Our escape plan was to drop down to the high tarns on the south side of Mt Burns(1648m), then cross over the upper basins and eventually return to Borland Saddle(990m) via the Mt Burns Tarns Track. Knee-wrecking steep rocks took us off the exposed ridges down to the tranquility of the mountain's many tarns. From there it was a simple traverse up and over Peak 1476m, then down to the track and finally the road. Once back at my van we had completed an epic loop which included three peaks, rocky ridges, and delightful mountain tarns. Now it was time to soak in the feeling of achievement that floods the mind and soul after another outstanding mountain adventure!